I saw it on the local news the other night, so it's official:
RVs are hip.
Well no, they didn't say "hip" exactly; what they said was that everyone's clamoring to get one now – or at least rent one – because of fears of coronavirus floating around airplane cabins, hotels, AirBnBs, VRBOs, and other communal travel spaces.
Except for sartorial fashions during my high school years, I've never been an "early adopter" of anything.  I'm impervious to trends, as a peek into my current clothes closet will reveal.  With phones and other tech, getting the latest thing seems foolish – I wait until the bugs are worked out… duh.  Nor am I someone who can claim to have "discovered" a band before they made it big.  Even with travel I'm usually late to the game.  By the time I've made it to the hottest new destination, it's passé.  But now, as a long-time owner of a travel trailer, I can finally utter that most hipster of phrases:
I had one before it was cool.
And as heady as my newfound hipness is, as I sit planning a COVID-friendly, social-distance-respecting, mask-and-sanitizer-heavy summertime trip with our home on wheels, I confess that this sudden interest in RVs by the previously uninterested (and sometimes scoffing) public causes me some concern.  I shudder at the thought of every Dom, Rick, and Barry out there on the road with us.  Whether it's a pull-behind travel trailer like ours, a fifth wheel, or a class A or C motorhome, these things take some experience and know-how to drive and tow safely.
For a primer on these and other types of motorhomes, click here.
Shockingly, in most states, a special driver's license is needed only when driving the biggest of the big.  That means most RVs you'll encounter on the highways – even ones that dwarf school buses – will be driven by people with no special training whatsoever.  What makes that bad this summer is that so many of these RVers will be inexperienced newbies.  This concern won't stop us from traveling – the pull is too strong.  It will, however, necessitate an increased state of vigilance as we roll across the country.
If you're still determined to join the exalted ranks of the RVer, allow me to give you a few things to think about before you impetuously run out to rent or buy a home on wheels.
Cost: Whether buying or renting, RVs aren't cheap.  Some cursory research of summertime (read: more expensive) rentals in my area can run you upwards of $2500 per week, and that doesn't cover gas (see below).  True, this high end of the price range is for a huge Class A motorhome.  A Class C is about $1500 per week.  If you book a towable, the weekly rate can be a third that price, but of course, you have to have a vehicle that can tow it (see below).  If you're looking to buy, purchase prices can run the gamut, but I'm pretty sure you won't come away from a visit to the RV dealership feeling "pleasantly surprised."
Tow vehicle:  When we first got our 12-foot Bobbie, our plan was to tow it with our Subaru Forester because, according to the owner's manual, our car was capable of pulling that much weight.  Officially, that's true, but that doesn't mean the Forester towed it well.  Here in Minnesota, we could get by, but we don't tend to travel in Minnesota.  We like to go into, and often up and over, the mountains, and that's quite a different thing to towing on the flats.  Even with the gas pedal all the way to the floor, getting Bobbie up a mere foothill was a slow, painstaking process.  In the end, we got a truck.  And don't be fooled by RVs with "micro lite," "ultra lite," or "featherlite" in the make or model name.  How marketers can bestow the word "lite" on a 37-foot, 7000-lb RV and still look themselves in the mirror is beyond me.
Want to meet Bobbie?  Click here.
Towable or drivable:  "But wait," you're thinking.  "I'm going to get a driveable RV – perhaps a Class C.  I know my limits, after all.  Who wants to drive a semi?"  True, true.  By getting a driveable motorhome, you avoid the tow vehicle problem as well as some of the handling hazards (see below).  But consider this scenario:
You've driven for hours, your butt is numb, but finally you've arrived!  You pull into your campsite and get all hooked up: water, sewer, electricity, and cable.  If your RV is so equipped, you lower the steps, open the awnings, extend your slide-out, situate your couch, and generally get settled.  A few hours pass.  You become hungry.  Restaurant or grocery shop for dinner?  It doesn't matter.  Either way, you need to go into town.  Wait.  How will you get there?  Your car has been transformed into your home, and now you have to unhook and restow everything to drive into town, then rehook and set up again when you get back to the campsite.  Same thing for that trailhead you want to go to tomorrow… and that fireworks display on the next lake over the night after that.  Unless you have one of those massive toy haulers or towed your car behind your RV, you will probably end up screaming: Why oh why didn't I get a towable?!
Gas: Though gas may be cheap right now, your eyes will still bug out when you see how much fuel it takes to tow even a modest trailer.  I consider myself an environmentalist, and towing a trailer is my biggest show of hypocrisy.  With one eye on the gas gauge and the other on your dwindling cash supply, you will find yourself unusually preoccupied with the prevailing wind direction – and praying for a tailwind – every second you are in motion.
Slow driving: In our pre-trailer days, we loved the fact that we could make it to Denver in 13 hours.  One long day of driving and we were in the mountains!  With towing, we make it to about two hours shy of Denver.  Everything is slower when you're towing, even on the flats.  Some of that is due to more frequent gas fill-ups, and some is owing to the need to avoid the top permissible speeds when towing.  Things get even slower when less-than-ideal weather conditions enter the picture.
Handling hazards: Now, I've never driven a true motorhome, so I don't know how much it differs from car driving.  But I can speak to driving while towing, and mark my words: sometimes even sitting in the passenger seat can be terrifying.
 Sway: Ah, sway, how I hate you.  Sway is the fishtailing that your trailer can do when you take a curve too quickly, when a big rig passes you at high speeds, or when you're driving in high wind conditions – especially cross-winds.  The car starts to shake from side to side and you feel like you might flip.  Fun it is not.  You'll need to buy a sway bar, but that only helps diminish sway, not prevent it entirely.
Reversing: Once, in college, I needed to back a borrowed trailer into my narrow driveway to load up for a move.  The driveway happened to be bordered by the house on one side and a retaining wall on the other.  I tried and I tried to back that sucker in, but ultimately – and in red-faced rage – had to leave it to my then boyfriend to finish the job.  Not my proudest feminist moment, but I'm sharing it to illustrate that backing up a trailer is not easy.  Another time, in a moment of reversing frustration, the husband backed in too abruptly at a weird angle and damaged our trailer tongue.  Ironically, we are told the that shorter the trailer, the more difficult it is to back in.  It is something that gets easier with lots of practice (and gobs of patience, and after many shouting matches as one of you backs in while the other stands outside and "assists"), but one summer trip won't be enough to master it.
Maneuverability: tight corners, low bridges, narrow passages, U-turns?  Good luck.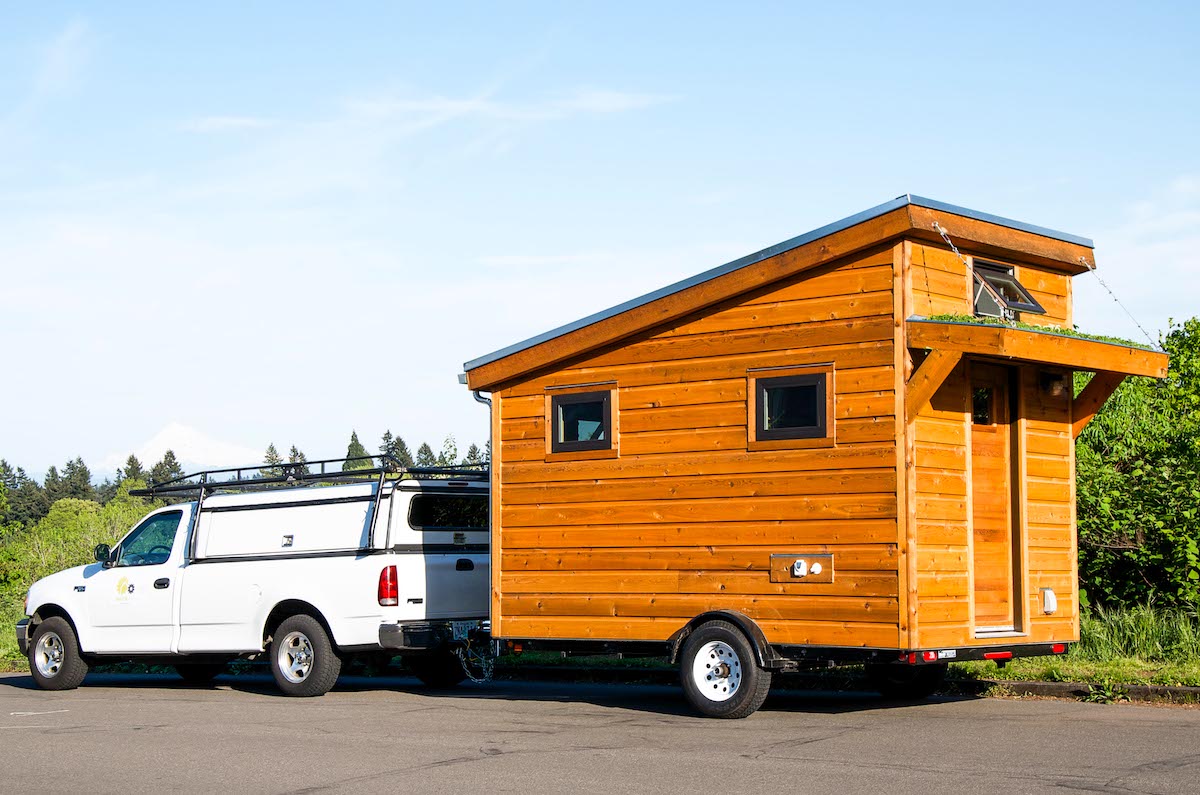 So yeah, there's a lot to consider before losing your RVirginity, and these things are just the tip of the iceberg trailer tongue.  But if you decide to embrace the trend and join the cool kids, read this article, double-check your hitch work, drive carefully, and if you do nothing else, stay in the far right lane, especially on an uphill.  See you out there!
---
And in case you missed it earlier: Until we meet again, dear Bobbie