Flight to London purchased?  Check.
Quaint lodging around England and Wales booked?  Check.
Rental van reserved?  Check.
Sigh.
I would have much preferred to rent a car for our upcoming trip to England and Wales.  Cars are cheaper.  Cars are smaller and more maneuverable around Britain's narrow village roads and country lanes.  Cars are lighter and use less gas.  But cars have one glaring flaw.  They cannot hold a Big Black Bike Box (which henceforth shall be referred to as "the bike box" or, more simply, "the box").
Have you ever traveled with a bike box?  We have. It's… an adventure.  As much as I love travel planning and am open to puzzling out travel problems, adding a bike box to overseas travel can up the hassle-factor to the almost unbearable level.  So why bother, you ask?  A little history:
I am married to a man who is very into sports and fitness.  More specifically he's is into duathlon/triathlon.  Now, so am I, but I would put myself at the "enthusiast" level, whereas he is closer to "fanatic."  A sub-trait of being a multisport extremist, at least for him, is being bike-crazy.  Given his druthers, all our European travels – heck, all our travels period – would be bike-focused.  Me?  No bikes.  I go to Europe for the food, history, and culture.  I don't want to show up to the Eiffel Tower dripping in sweat and wondering where the heck I can put my bike while I attempt climb the structure in my unflattering padded shorts and clip-in bike shoes.  I don't want to spend my time at the Colosseum moaning about sore butt bones, an aching back, and the latent kink on the left side of my neck that always reveals itself three minutes into any ride.  But I digress.  The point is that he is very into bikes and very, very particular about what bike he rides.  In other words, no bike rentals.
Several years ago we traveled to Belgium to visit our cycle-loving friends (hereafter knows as "The Belgians") for a few days and then traveled with them to southern France and the Alps – a very cycling focused vacation.  Given the nature of the trip, and the fact that my cousin lent us his bike box (if possession is 9/10 of the law, it's technically ours now), we chose to bring our bikes.  This involved the husband disassembling said bikes and loading them into the box.  Not a big deal, you say.  Well, wait.  Then it was down to the airport the day before departure to make sure they weighed in under the designated weight limit. The going rate, at the time, was $125 each way for an oversized item, but go even one ounce over the weight limit and the price skyrocketed. So we got it weighed at the curbside check-in desk at the airport, then drove 30 feet and weighed it at the next curbside check-in desk, just to be safe.  As it was, we came in just shy of the limit.  (Relieved brow-mopping and a flurry of high-fives followed.)  Then we returned the next day, went to a special desk to hand over the bike box, and were on our way.  It was waiting for us when we arrived in Brussels, The Belgians had a minivan and a garage with tools and room for lots of bikes on their car, so we were all set and, except for lugging it around the airports, using the box was mostly uneventful.
Two years ago we returned to cycle with The Belgians, but this time the first ten days of the trip was just the husband and me touring around France.  After that we were to meet up for another alpine cycling adventure.  Because of the nature of this trip, and because I wasn't planning to cycle this time, I begged him to please, please rent.  I threw in the tantalizing promise that the next time we did any cycling on a European vacation, he could definitely, for sure, absolutely bring his own bike.  When he's feeling generous, he'll agree that it was the right move, but get him thinking about the rental experience (which occurred twice – once in the Alps and once in Provence) and he'll happily tell anyone listening what a pain it was and how the experience just wasn't the same on "not-my-bike".
Fast forward to the UK trip, where I am being held to my hastily-made promise.  There will be no Belgian friends with minivans picking us up from the airport.  There will be no garage to leave it in while we tour the country.  There will only be jetlagged us, two suitcases, two carry-ons, a massive bike box, and the need to somehow get all this crap around Britain with us.  There were serious doubts about it fitting a) on a train, and b) on the underground.  Ergo, a van.  Let the adventure begin!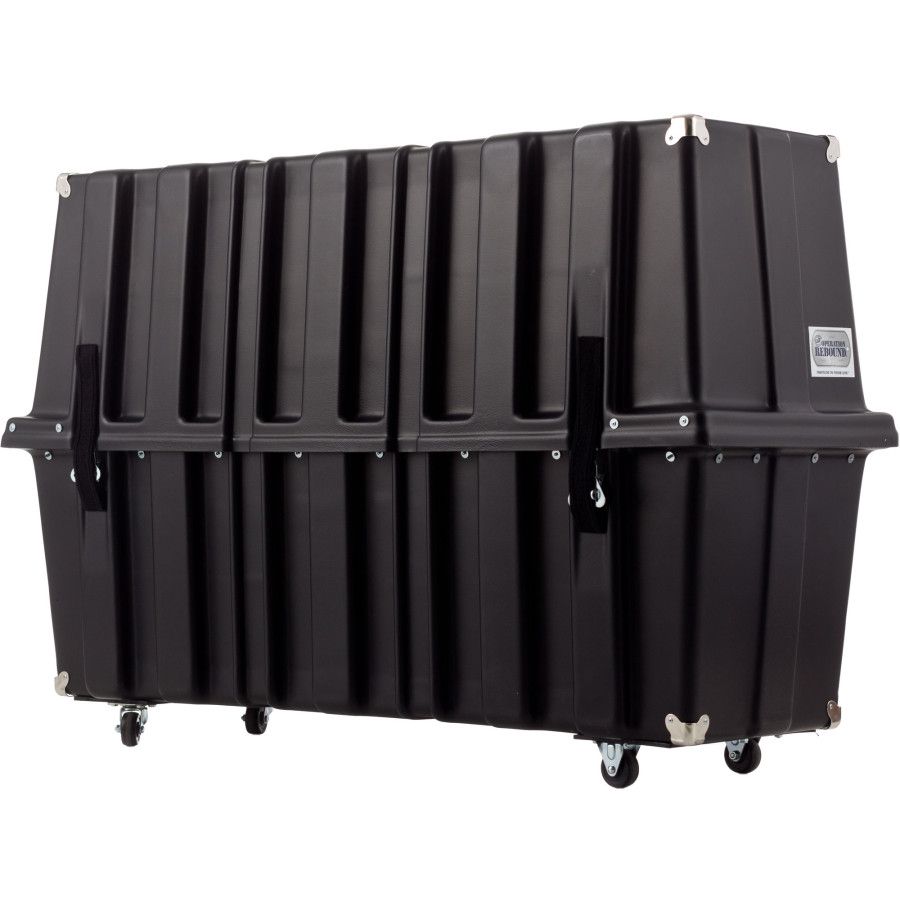 Related post: On Traveling Overseas with Bicycles: How It All Played Out