Have you ever hiked five miles in bare feet, sandals, or Crocs®?  Of course you haven't.  That would be insane.  That, or you would have been in some sort of hair-raising, life-threatening survival/escape scenario that would have left you traumatized for life.  If that's the case, I apologize for being so glib.
However, hiking five miles in a combination of bare feet and sandals (me) and Crocs® (the husband) is exactly what we did this past summer at White Sands National Monument in south-central New Mexico.
I should know better, too.  When I was 23, I completed a semester course with the Colorado Outward Bound School.  For the uninitiated, that's 2 ½ months of mountaineering, rock climbing, river rafting, and canyoneering, with lots of survival skills thrown in because we needed them to, ya know, survive.  But you don't need a COBS course to know what proper hiking footwear is.
And the hiking boots were right in the car!  After getting settled in Alamagordo, we made our way back down the highway to White Sands National Monument, stopped briefly in the visitor center, and then drove to the end of the road where the kidney bean-shaped, five-mile Alkali Flat Trail begins.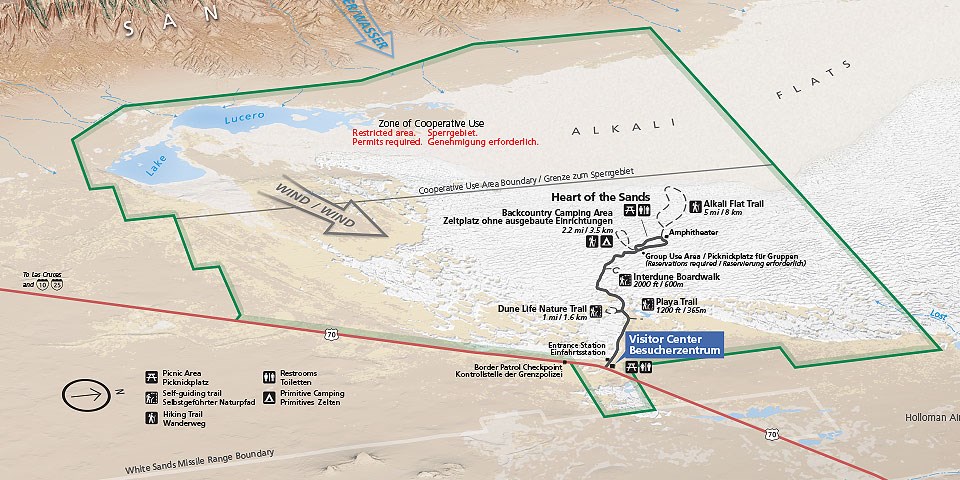 We walked out a ways, unsure if we were going to complete the entire circuit.  Once we decided to, we'd gone far enough along the "trail" that going back to the car felt like a hassle, so we just proceeded, against my better judgment, with the sartorial choices we had made that morning.  And do you know what?  It wasn't the blisterfest I'd feared.  In fact, it was no problem!
The park's name is actually a misnomer, because it's not sand out there.  It's gypsum, and gypsum is much, much finer and softer than sand.  It feels as if the dunes are made of baby powder.
Navigation is done by keeping an eye out for large poles.  (They're not pictured here, but they're pretty easy to spot.)
It looks relatively flat in these pictures, but many of the dunes on the trail are quite tall and steep.  Some people even sled down the dunes.  Part of me wishes we had purchased one of those saucer-style sleds that they sell in the gift shop, but we were nearing the end of our three-week road trip and space in our vehicle was at a premium.  Trying to fit in additional things at that point was like playing a life-size game of Tetris.  Besides, we had to save room for our inevitable purchases from the shopping mecca of Old Town Santa Fe, the last stop on our itinerary.
So instead, I had to content myself with the only other entertainment option available: watching the husband reenact the echo scene from Lawrence of Arabia, undeterred by the lack of echos.  (Be grateful I don't have video capability on my blog site.)  To date, I've been unable to stay awake for the entirety of this nearly four-hour cinematic marathon, but I do know that White Sands is reminiscent of the setting.
Although the part of the park that's easily accessible to the public is not large, it's definitely unique.  Ethereal and otherworldly are words that also spring to mind.  Once this damn governmental shutdown ends, I would encourage you to get your Lawrence on and visit.