To find out why we engaged in this craziness, read this: Nervous But Committed: Why I'm Traveling Abroad During the Pandemic
---
May/early June, 2021: Eagerly await lifting of US/UK travel restrictions that I'm certain will follow the mid-June G7 summit in Edinburgh.
Most of June/July: Make productive use of my summer off by Googling "US/UK travel corridor" two dozen times/day while cursing Boris and Joe's heel-dragging under my breath.
Late July: Learn that UK will soon let us in without quarantine, but the change comes too late. Between our commitments and UK family's commitments, we can't make it work before school year starts. And there's still the worry about needing a negative COVID test to board a plane back to the US. Emit string of expletives toward Joe and Boris.
Mid-August: Stumble upon "COVID evacuation insurance" while perusing the web. Balk at cost, but seed is planted.
Late August: Frustrated with futility of it all, let out audible sigh and say "Screw it." Commit to buying exorbitant evacuation insurance and going at Christmas. Cry foul at lack of direct flights between Minneapolis and London. Cheer upon nabbing First Class return tickets that are $25 cheaper than Economy Comfort. Worry that we'll require evacuation and won't get to utilize First Class seats. Acknowledge that COVID really does suck the joy out of travel planning.
September: Book Forbes®-recommended, super pricey COVID-friendly travel insurance. Feel compelled to opt for expensive "cancel for any reason" add-on, even though it means we must cancel at least two days before departure and you only get back 75% of your costs. Emit string of expletives toward insurance industry.
September 27 – November 7: Receive four separate airline emails (including one marked "Urgent! Please contact us immediately!" that nearly sends me into cardiac arrest) about four separate flight leg changes or cancellations. Spend hours on phone dealing with changes, most of it on hold. Emit string of expletives toward airline industry.
Mid-November: Get booster shot. Despite physical suffering, feel invincible!
November 25 (Thanksgiving Day): Learn of "horrid" new variant discovered in South Africa. Feel pumpkin pie slosh around as my stomach tightens into a knot. Begin first of many sleepless nights as seeds of worry sprout like Jack's beanstalk.
November 26: Read in London Evening Standard that truck driver shortages may mean UK shops could run short of wine and liquor ahead of Christmas. Threat of dry holiday further ramps up stress.
November 27: Discover that UK has tightened travel restrictions for incoming travelers, including reverting to PCR test on "Day 2" (instead of fast and cheap lateral flow test) and—crucially—the need to self-isolate while awaiting results, as well as the need to self-isolate for ten days if the NHS says we've been in contact with a "suspected" Omicron case. While driving home from Wisconsin, have first (of 52) arguments with the husband over what conditions would impel us to cancel trip (and make mental note of our incompatible levels of risk tolerance).
December 2 (day): The noose tightens further: US changes re-entry requirements from "lateral flow test within three days of flight" to "PCR test within 24 hours of flight" making logistics much more challenging. Learn second US case of Omicron is in Minnesota. Sleepless nights continue.
December 2 (evening): Realize taking "wait and see" approach will mean sought-after test appointments at Heathrow will be gone, and thus recommit to the trip. Book "Day 2" (arrival) test and "Fit to Fly" (return to US) test, knowing that if it all goes south, there will be no refunds, only vouchers. Despite this injustice, get first decent night's sleep in a week.
December 4: Buy exorbitant COVID evacuation insurance on last possible day of eligibility. Wonder what fine print I've missed that will render policy null and void. Gaze sadly at new, lower savings account balance. Spend long day at annual holiday craft fair getting breathed on by humans of unknown COVID status.
December 5: UK adds a new requirement: negative test within 48 hours of arrival. Stress returns. Further learn that the next date the UK is due to update travel restrictions is the day before our departure. Since the latest we can pull the "cancel for any reason" trigger on our travel insurance is two days prior to departure, this is very bad news indeed. Stress intensifies. Consider emailing Boris to detail our travel situation and beg for clemency. Binge watch Line of Duty on Britbox® instead.
December 7: Learn that close family member is in the hospital in UK for non-COVID-related medical emergency. Urgency to get over there is stronger than ever.
December 9: Book pre-departure COVID tests after much time spent trying to figure out which kind ($99 antigen, $179 NAAT, or $199 PCR) will be accepted by UK under their esoteric rules ("≥97% specificity, ≥80% sensitivity at viral loads above 100,000 copies/ml—whatever the hell that means).
December 10-11: Get hit with first snowstorm of the season—a stark reminder of yet another thing that could disrupt our carefully laid travel plans. Consult long-range weather forecast for departure and layover cities. Things look good, but then remember that long-range forecasts are worthless. Emit string of expletives toward meteorology industry. Do inaugural round of Nordic skiing to dispel negative vibes.
December 12: Start to hear reports about England tightening restrictions—not just for travelers, but for everyone—due to Omicron's uniquely devilish properties of vaccine-evasion and superfast transmission. Worry creeps back. Husband joins today's ski/therapy session on his bike. Begin to pack, wondering if it'll end up being for naught.
One week before departure: It's a good news/bad news kind of day. We learn that visiting the hospitalized family member will be tricky given plague-wary visitation rules and the location of the hospital, which is not in the same town we will be in. If a COVID case materializes on the ward, visitation will be impossible. On the plus side, the UK will be easing its "You've Been Exposed!" rules. Instead of having to self-isolate for ten days, we can take a home test every day for seven days. Unlike in the US, where locating a box of two swabs is like going on a protracted, maddening scavenger hunt and will set you back $30, at-home rapid tests in the UK are ubiquitous and free.
Five days before departure: Watch UK's cases skyrocket and wonder how the heck we'll complete this trip without contracting Omicron. Consider reading over last will and testament to make sure everything's in order. (Note to reader: Do not submit inheritance request. The rabbit's getting everything.)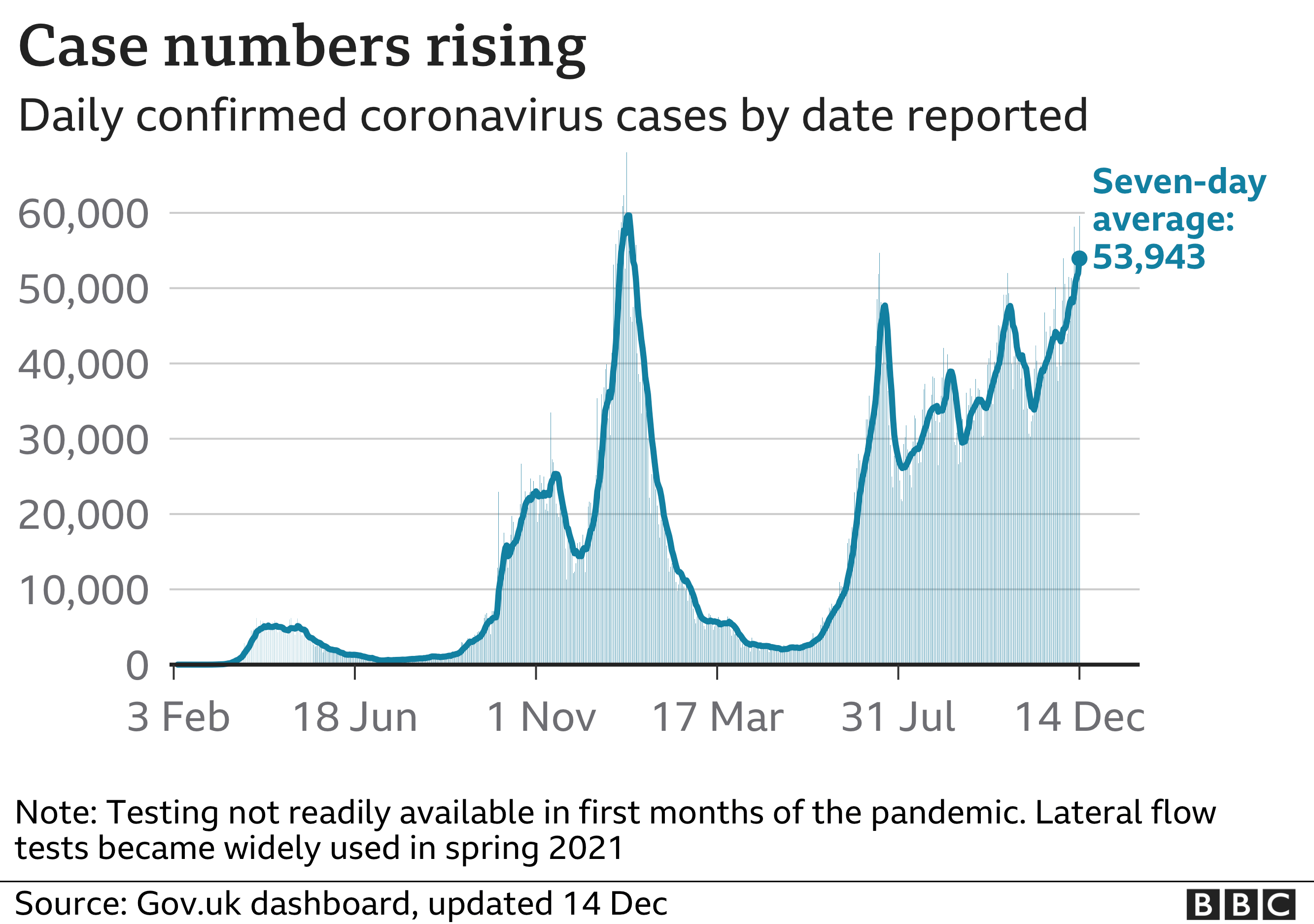 Two days before departure: Wake up with sore throat. Take at-home COVID test. Results are negative.  Worry about false negative results sometimes reported with at-home tests.  Husband rolls eyes, saying I always get "sick" right before travel as a response to the anxiety and stress. He's not entirely wrong, but more symptoms (of a cold? COVID? Leprosy?) emerge as day wears on.
One day before departure: A tough day as we argue repeatedly over whether we should cancel given my worsening illness and the new warnings that Downing Street is considering a pre-Christmas lockdown. Suffer all day with symptoms.  Take official COVID tests for travel. We're both negative, meaning the agony coursing through my body is merely a horrible cold—my first in two years and packing a punch to make up for lost time. Continue packing suitcase.  Rest on couch. Argue. Pack. Rest on couch. Argue. Pack.
Departure day: Low grade fever finally breaks early morning. Despite dire warning from Delta® to get to the airport FOUR HOURS EARLY (for the domestic leg: Minneapolis to Boston), the husband stubbornly refuses.  This sends me into spasms of worry, but in the end getting there the usual two hours ahead left us with gobs of time, even with extra time needed to verify COVID-compliancy documents. Flights are blissfully uneventful and depart on time from both Minneapolis and Boston, but Boston to Heathrow flight has many empty seats (none in our row, naturally). Symptoms seem a little better during first leg, but I'm back in misery during the overseas leg.
Arrival day: Long wait at baggage claim as I leak like a faucet from my eyes and nose. Self-consciously wipe nose with tissues under my mask and attempt to stifle coughing. Aim for the stealth of an MI6 agent, but end up looking more like Mr. Bean. Another long wait at COVID testing site, which isn't disorganized, per se, but seems inefficiently run.  Take London Tube to King's Cross Station—the husband remarks he's never, ever seen the Tube so empty. After 90-minute rail journey to Newark we check into our Airbnb.  Now we self-isolate while awaiting test results, "guaranteed" by 10:00 (22:00) the next night. While I log onto the web to finish this post, see that England's ministers are meeting to decide whether, when, and how severely to lock down the country and I think, "The most gifted dramatist couldn't make this shit up." Wonder how we became the lead actors in a Shakespearean tragedy we wouldn't even go to see ourselves.  Emit self-pitying string of expletives toward the universe and everything in it.
To be continued . . .
---
The whole damn English COVID Christmas Saga:
Omigod, Omicron! COVID Travel Abroad Is Not for the Faint of Heart!