There's nothing like half-timbered Tudor architecture to really give you that "I'm in England!" feeling, and the town of Ludlow has it in spades.
This slideshow requires JavaScript.
We added this slightly shorter (3 night/2 day) segment onto our itinerary because Ludlow Castle is just too full of history to pass up and because the town is situated at the southern end of the Shropshire Hills AONB, another area that draws cycling enthusiasts nutters like the husband.  What is an AONB, you ask?  When I was travel architecting this trip, I had the same question.  The United Kingdom (which, just so we're all on the same page geopolitically, is comprised of England, Wales, Scotland, and Northern Ireland) currently boasts 15 national parks, though they're all situated in Great Britain (which, again, for clarification's sake, includes only England, Scotland, and Wales).  Don't fall asleep on me – there may be a test later.  This video might help your score, but if nothing else, I can practically guarantee you'll find it catchy and amusing.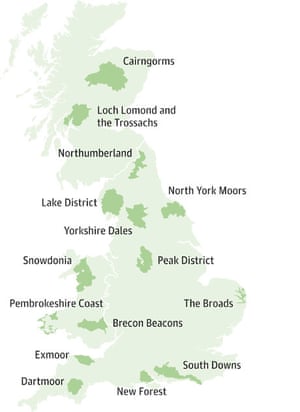 In contrast, there are 46 AONBs or Areas of Outstanding Natural Beauty.
Not one to follow the crowd, Scotland calls its equivalent areas NSAs, or National Scenic Areas, and it has 40 of them.  Though math was never my strong suit, I'm pretty sure 86 is a lot more than 15, meaning AONBs/NSAs clearly beat the pants (or trousers, as they say in England) off national parks in terms of sheer number.  However, in our admittedly very limited experience, they aren't quite as breathtaking.
You know what?  That's a completely ridiculous statement.  We've seen 1/86th of these acronymed regions, so all we can really say is that we thought the Peak District National Park and Snowdonia National Park were prettier (and more sheep-filled) than the Shropshire Hills AONB.
That's not to say it wasn't pretty or enjoyable.  It was both.
The town of Ludlow itself is lovely and provided one of the few chances on the entire trip to scratch my shopping itch.  Our B&B, The Charlton Arms, had the nicest and most spacious room of any we stayed in on this vacation, and occupied prime real estate right next to the River Teme, even if the customer service there wasn't, uh, always the friendliest or most helpful.
St. Laurence Church, in the heart of the town, has a climbable tower (£4.00) affording panoramic views.
It also has tombs of many members of the local gentry throughout history.
Most importantly, it is the burial site of Prince Arthur's "heart." Prince Arthur was the heir to the Tudor throne, whose death catapulted his little brother Henry from "spare" to "heir."  This is the same Henry who would become England's notorious King Henry VIII.  If you don't know who that is, let me know.  I have a list of book recommendations as long as my arm that I can give you.  When I asked why all the signs had "heart" in quotation marks, I was told it's because more than just his heart is buried there.  It also includes his, er, innards.  This was common practice for royalty in those days because the body often wasn't buried for weeks after death, sometimes owing to the need to transport the remains long distances to a certain pre-selected church or cathedral.  Not removing those vital organs would mean more rapid decay and a much less pleasant olfactory experience for the people transporting the body.
But English history doesn't stop at the church.  As I mentioned earlier, there's a castle in town!  Here are just a few of the fascinating Plantagenet and Tudor folks who called Ludlow Castle home:
Richard, Duke of York (Edward IV's dad) – his claim to the throne was through a female, which in those days of misogynistic laws and customs pretty much disqualified him for kingship.  That doesn't mean he didn't try.  In fact, he died trying (in battle).  His son prevailed, though!
Edward IV – he pissed off a lot of people when he married for love/lust.  Also, he had his brother George killed.  It was kinda justified though.  George was a treacherous backstabbing jerk who tried to take the crown from Edward.
Edward and Richard – Edward IV's heir and spare, who were retrieved from Ludlow Castle before being taken to the tower of London and eventually disappearing (that is to say, probably murdered) and becoming known as "The Princes in the Tower."  A lot of people think Edward IV's other brother (Richard III) had them killed, but they can't prove a thing!
The aforementioned Arthur, Prince of Wales, and his bride, Catherine of Aragon – she would go on to marry her brother-in-law, Henry VIII.  (The importance of this latter marriage and Henry's subsequent marital dissatisfaction on England's split with Rome and the creation of the Church of England in the 1500s cannot be overstated.)
Mary Tudor (Henry VIII's elder daughter) – she inherited the throne and came to be known as "Bloody Mary" for her ruthless execution of what she considered hell-bound heretics but what we today would just call Protestants.
Again, if these people are unfamiliar, contact me and I'll set you up with a reading list.  Honestly, this stuff is better than fiction.
"But what about the cycling?" you may be wondering.  Yes, we did some of that.  You know how some days you just don't feel like exercising, and even if you force yourself to at least start, you just hate every second of it?  I don't have those days very often, but alas, I had one on our cycling day.  Unfortunately for me, when you're halfway into a 36-mile circular route, it's kind of hard to just throw in the towel, so I completed the annoyingly hilly ride with as much good humor as I could muster, which wasn't much.
On the plus side, we did get to see some unexpected castle ruins.  We also rode through the towns of Clungunford, Aston-on-Clun, Clunton, and Clun, though we just missed Clunbury.  Not surprisingly, these are all on the river Clun.
The next day, swearing off cycling until our long-planned London ride three days hence, I did the shopping I mentioned earlier while the husband rode solo to the ruins of Wigmor Castle.  I won't burden you with more history, but I will tell you that the castle's archway used to be eight feet high but now you'll need to duck (or do the limbo) to go under it.
And that was the end of our time in Ludlow and the Shropshire Hills.  A worthwhile addition to our trip, indeed.
Nice teacher that I am, I've decided to spare you the test.  Instead, here's an educational map for all you visual learners out there.
Costs associated with having a rental van for this portion of the trip:
$0.00 (Free parking at The Charlton Arms!)
Subtotal: $1,353.80 (stay tuned for more charges)
---
Posts in the UK Road Trip series:
Part 4: Ludlow & the Shropshire Hills